Roll over image to zoom in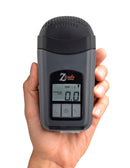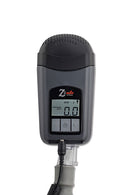 Description
Ultra-small, lightweight, auto-adjusting CPAP – perfect for travel.
The Z2 Auto CPAP builds on the form of the Z1 CPAP with an improved, quieter motor and Auto Start /Stop Feature. We added a free Qtube to muffle the noise at the mask.
At just 6.48" x 3.30" x 2.02" and 10.4 oz, it fits easily into your bag and won't weigh you down. It's perfect for taking your sleep apnea therapy anywhere you want to go. No special mask required: The Z2 Auto does not require a special mask or tube for use. You can use your favorite mask as long as it does not have a proprietary connection.
Integrated Battery Option: For travel off the grid or where power is limited, add on the optional PowerShell for a fully integrated battery option. The PowerShell's Extended Life Battery is a rechargeable, lithium-ion battery which provides a full night's therapy on a single charge.
Features:
• Lightweight, ultra-small Auto CPAP machine
• Optional integrated battery available called the PowerShell
• Does not require a special mask or tube. You can use any mask as long as it does not have a proprietary connection.
• Download your sleep data from the Z2 Auto to your iOS or Android phone or tablet with the free Nitelog mobile app.
• USB connection to Windows-based computers for download of sleep data to free DataViewer program and firmware upgrades.
• Waterless humidification from HME (Heat Moisture Exchanger)
• Z-Breathe comfort feature
• Auto Start / Stop Feature
• For use in Auto-adjusting or Fixed Pressure CPAP Mode
Warranty: 2 Years
In the box:

• Z2 Auto CPAP

• Power Supply (AC adapter) and Power Cord

• USB Micro A to B Cable

• Custom tube adapter

• 4 ft Slim Style Tube

• Filters (2- 1 installed + 1 extra)

• Heat / Moisture Exchanger (HME)

• Qtube inline muffler

• 8 in. Slim Style Tube

 

Available by free download:

• Nitelog mobile app for iOS or Android- View and analyze your sleep data from your Z2 Auto

on your iOS or Android mobile device

Specifications:

Machine dimensions: 6.48" X 3.30" X 2.02" (16.46 cm x 8.38 cm x 5.13 cm)

Machine weight: 10.4 oz. (295 g)

Operating pressure range: 4-20 cmH2O
Payment & Security
Your payment information is processed securely. We do not store credit card details nor have access to your credit card information.