Roll over image to zoom in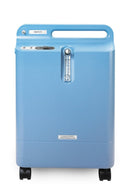 Description
EverFlo Q Oxygen Concentrator is an ultra-quiet, affordable oxygen concentrator. The EverFlo Q is an upgrade to the Everflo Oxygen Concentrator. This medical oxygen equipment combines the small size, light weight and low maintenance of the popular EverFlo Oxygen Concentrator, with the added value of a remarkably quiet sound level. With the EverFlo Q Home Oxygen Concentrator, you will get the benefits of an ultra-quiet concentrator without the burden of paying an ultra-large price. With a sound level of only 40 decibels, the new Everflo Q Concentrator operates as quietly as a whisper compared with the 60 decibels of some oxygen machines.
OPI (Oxygen Percentage Indicator) ultrasonically measures oxygen output as a purity indication. If the oxygen output falls below normal levels, an orange light will turn on and the unit will sound an alarm. 
EverFlo Q is lightweight and compact in size, allowing you to easily set it up out of the way of room traffic. The casters on the bottom of this home oxygen equipment make moving the EverFlo Q around a breeze. Because the EverFlo Q Oxygen Concentrator features a dual filtration system, you will spend less time and money on regular maintenance or repair calls. Additionally, the new EverFlo Q produces less heat and requires less electricity to operate, reducing owner operating costs.
Respironics EverFlo Q Oxygen Concentrator Features & Benefits:
- Amazingly Quiet Operation at just 40 decibels.
- Easy to Move From Room to Room - Small and Compact at Only 31 lbs.
- Easy to Store and Transport.
- No Service Provider Filter Change for an entire year (or 8,000 hours)
- Less Maintenance With Two Filters.
- Available With or Without Oxygen Percentage Indicator (OPI).
- Quiet, Small Oxygen Concentrator.
- Ease-of-Use In a Stationary Concentrator.
- 5 LPM Oxygen Output.
Respironics EverFlo Q Specifications:
- Width: 15 Inches. (381 mm)
- Height: 23 Inches (584 mm)
- Depth: 9.5 Inches. (241 mm)
- Weight: 31 lbs (14 kg)
- Sound Level: 40 dBA typical
- Oxygen Output 0.5-5 liters per minute
- Oxygen Outlet Pressure: 5.5 PSI
- Oxygen Concentration: (at 5 LPM) 93% (=/- 3%)
- Input Voltage: 120 VAC +/- 10%
- Input Frequency: 60hz
- Average Power Consumption: 350 Watts
- Required Maintenance Intake Filter: Change every year/8,000 hours
- Compressor maintenance: 25,000 hours
- OPI (Oxygen Percentage Indicator) Alarm Levels: Low Oxygen: 82%, Very Low Oxygen: 70%
- Operating Temperature: 55 F to 90 F (12 C to 32 C)
- Storage/Transport Humidity: -30 F to 160 F (-34 C to 71 C) up to 95% Relative Humidity
- Operating Altitude: 0 to 7,500 ft (0 to 2,286 m)
- Respironics Warranty: 3 years limited.
Please note - Any smoking while using the unit or evidence that unit has been used in a smoke filled environment will void the warranty.

*Warranty voided if used for alternative purposes, including hyperbaric chambers.
Payment & Security
Your payment information is processed securely. We do not store credit card details nor have access to your credit card information.