Roll over image to zoom in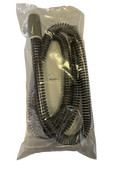 Description
The ResMed ClimateLineAir Oxy Heated CPAP Tubing has all the latest innovations available to date plus the ResMed Technology PAP users love. The newest CPAP tubing from ResMed exclusively for the ResMed Air Series units are still thin and flexible for the patient's comfort and easy usability. The ClimateLineAir Oxy Heated CPAP Tubing provides the patient's an increased level of comfort through the heated tube technology already introduced in the other heated tube products from ResMed.

Maintaining the air temperature that transitions through the ClimateLineAir Oxy Heated CPAP Tubing is just the beginning of the control solution offered. Bottom-line the temperature of the air is continuously monitored and regulated. The tubing has a built-in oxygen connector for PAP users who are also oxygen patients.
The ClimatelineAir tubing is only compatible with the AirSense 10 Model
Payment & Security
Your payment information is processed securely. We do not store credit card details nor have access to your credit card information.