Roll over image to zoom in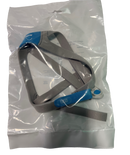 Description
The Headgear for the AirFit F30 Full Face Mask is made of flexible nylon. It's comfortable to wear and soft to the touch. The headgear is designed to minimize touchpoints on the face, reducing irritation and red marks.

Many masks have headgear connections higher on the face to support the cushion in place. This strategy is adequate, but can also leave red marks on the face, especially when the straps are tightly fastened. On the ResMed AirFit F30, the four headgear connections are all lower on the frame, helping reduce the touchpoints on the front of the face and making it more comfortable to wear.

The headgear is easily adjusted using velcro straps. It's one-size-fits-all and conforms to various facial structures. It attaches to the frame using magnetic headgear clips. The magnetic headgear clips lock the headgear firmly in place and can be removed by pulling in the opposite direction of the magnetic force.

The headgear is only compatible with the ResMed AirFit F30, and will not work with any other mask. This is the headgear only and does not include any other items.
Payment & Security
Your payment information is processed securely. We do not store credit card details nor have access to your credit card information.