Roll over image to zoom in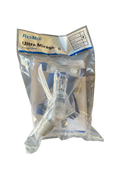 Description
The Ultra Mirage II combines the best features of the Ultra Mirage mask and other popular ResMed nasal masks, offering a unique combination of comfort, convenience, quietness, and effectiveness.
Millions of sleep apnea patients have benefited from the superior comfort and seal of ResMed's Ultra Mirage Nasal Mask. Now there is an even better mask available - the Ultra Mirage II Nasal Mask. The Ultra Mirage II is similar in shape and design to the original Ultra Mirage, and offers the same high performance and quality with even more features.

Two-Layer Cushion has a supportive inner layer that provides superior stability and a soft outer membrane that reduces the likelihood of leaks and pressure sores. Air flowing through the mask inflates the membrane and gently positions it against the face so that it forms a secure seal without the need for tight headgear. This unique design reduces the possibility of pressure sores and provides optimal comfort.

Breath-O-Prene headgear is the latest in headgear technology. It draws moisture away from the skin and allows air to circulate through the material. This greatly improves patient comfort.

Headgear Quick Release Clips allow for easy removal of the headgear and eliminate the need for continual adjustment
Payment & Security
Your payment information is processed securely. We do not store credit card details nor have access to your credit card information.