Roll over image to zoom in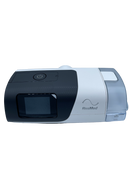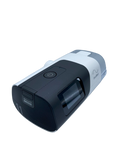 Description
The AirSense 11 represents the culmination of the very best in CPAP technology. The latest iteration of the popular ResMed AirSense series, this new model combines enhanced digital health technology with the latest sleep apnea algorithms that are designed to revolutionize CPAP treatment. Lighter, sleeker, and now with a crisp touchscreen, the AirSense 11 AutSet is about to be your new best friend.

Alongside top-of-the-line CPAP therapy, fine-tuning the AirSense 11 AutoSet to your unique settings and tracking your progress has never been easier with the MyAir app.
Key Features:
Digital Touch Screen - Quick and easy
User-Friendly - Digital control
Therapy Data

 

- Cellular communication
AirView

Personal therapy Assistant
Care Check In

EPR (Expiratory Pressure Relief) - Reduces the pressure when you exhale.
SmartStart - Breathe in and the machine will start automatically.
Smart Stop

 

- Auto turn off when the mask is removed.
Humidification - Climate control auto setting
Auto Ramp - Slowly eases the user into higher pressures by starting out on a low setting.
Mask Fit - This feature allows the user to know when an air leak has occurred.
ClimateLineAir Tubing (Optional) - Heated tubing that helps reduce CPAP side effects like rainout or dry mouth.
Default Settings:
Ramp: Auto
Start Pressure: 4 cm H2O
Humidity Level: 4
Mask Type: Pillows
EPR: Off
SmartStart: Off
Tube Type: Slimline
Payment & Security
Your payment information is processed securely. We do not store credit card details nor have access to your credit card information.