Roll over image to zoom in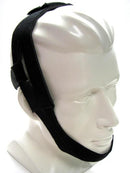 Description
Chin Straps are often used for those who experience problems associated with open mouth-breathing during their CPAP therapy.
A chin strap can solve these problems by holding the mouth closed during sleep, and may prevent the patient from having to wear a full face CPAP mask.
Payment & Security
Your payment information is processed securely. We do not store credit card details nor have access to your credit card information.