The current situation with COVID-19 (also referred to as the coronavirus) is changing every day. As more businesses are forced to close their doors and the numbers of people who are sick continues to rise, it is only natural that many would feel anxious. This is especially true of CPAP users, many of whom are among the groups with a higher risk of experiencing severe symptoms from this virus.
In addition to social distancing measures, a big part of current efforts to combat the spread of the disease includes an increased emphasis on personal hygiene. Recommendations such as washing your hands with soap and warm water for a full 20 seconds have never received such emphasis — or adherence.
For CPAP users, washing hands and maintaining a safe distance from others are just one part of the equation. When you use a CPAP machine each night to counteract the effects of sleep apnea, it is equally important that you ensure that your machinery won't increase your risk for any respiratory illnesses.
By taking the time each day to ensure that your CPAP machine is properly cleaned and sanitized, you can sleep better at night knowing that your equipment won't increase your risk for serious respiratory illnesses.
Why is CPAP Cleaning So Important?
Your CPAP machine delivers a steady flow of air throughout the night — but for your continued health and well-being, that air should be as clean as possible. Unfortunately, simply following usage guidelines will cause your CPAP equipment to get dirty over time.
Each time you put on your CPAP mask, sweat, oils, and dead skin cells will accumulate on the mask components. Over time, this can actually accelerate deterioration of the mask. This could require that you need to replace it sooner than recommended because the mask will no longer form an airtight seal.
Moisture is an even bigger issue, especially if you use a humidifier so that your treatment will be more comfortable. The moisture can get caught in the crevices of the mask and hose, where they serve as an ideal breeding ground for germs and mold. This is especially true if you are sick — any bacteria that you breathe out has a high probability of getting caught in the CPAP hose, where it can thrive and contribute to additional infections.
Just how bad can this buildup get? One study by Harvard Medical School and Brigham and Women's Hospital found that 48 percent of CPAP masks had over 2,000 bacteria counts after 48 hours without cleaning.
Studies have found that without consistent cleaning of their equipment, CPAP users are more likely to suffer from pneumonia and other respiratory illnesses. Recurring colds and illnesses become more frequent and harder to recover from. In a time when COVID-19 is making headlines for its severe side effects and lengthy recovery time, failure to maintain your CPAP machine could make such issues even worse. At the same time, stopping sleep apnea therapy could worsen other underlying health problems and make you more susceptible to disease because of increased fatigue. You shouldn't stop using your CPAP machine — but you must make sure that it is kept clean.
The consequences of not cleaning your CPAP equipment go beyond an increased risk for respiratory infections. Not cleaning your CPAP components could result in mineralization within the equipment itself, which increases the risk of the machine breaking down. Failing to care for your CPAP machine could even void the manufacturer's warranty, which could require a costly replacement if something went wrong.
The same studies examining the prevalence of bacterial growth on CPAP equipment also note that as the equipment ages, bacterial and fungal buildup increases. Standard cleaning methods tend to become less effective. Because of this, CPAP users should also carefully follow their manufacturer's equipment replacement guidelines. This typically includes replacing the mask and hose every three months, and replacing the humidifier water chamber after six months, among other components.
Basic Hand-Washing Methods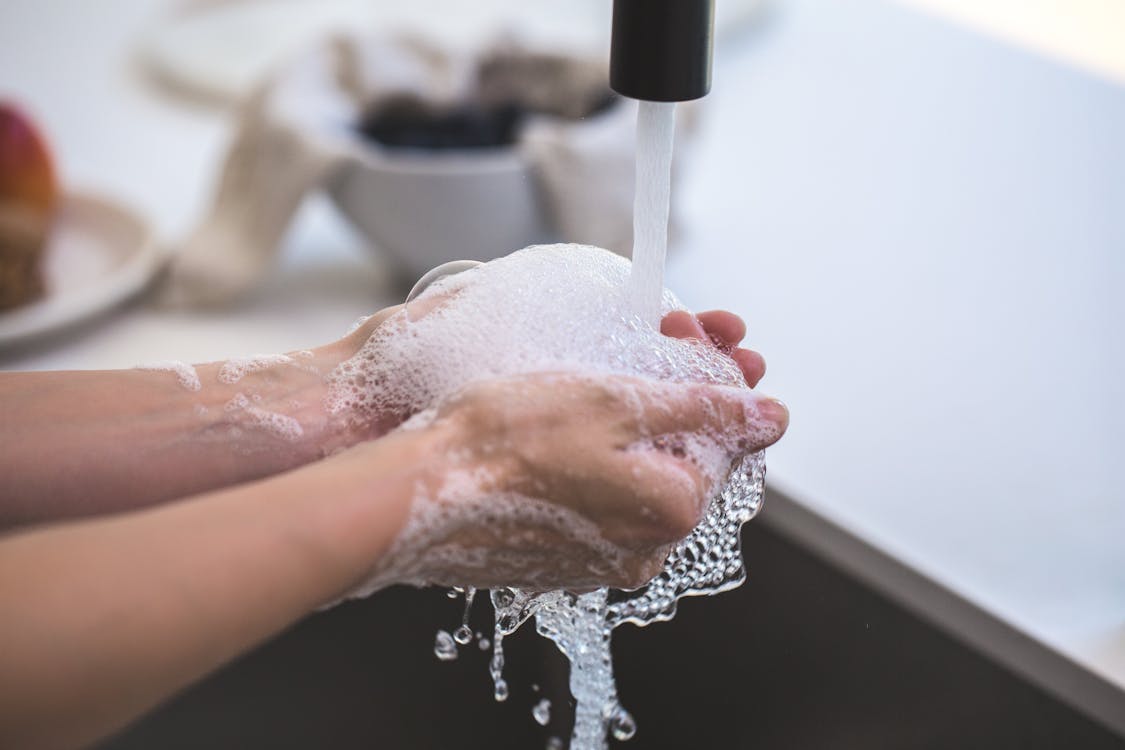 The basic process for cleaning CPAP equipment involves hand-washing the mask, hose, and humidifier water chamber with warm water and a mild dish soap. To do this, users should start by unplugging their CPAP machine and disassembling the connected parts. For example, the mask should be disconnected from the CPAP hose and any headgear.
The CPAP hose should then be disconnected from any connectors and the machine. If the humidifier water chamber separates into multiple pieces, take it apart. Otherwise, simply open the water chamber so it can be cleaned as thoroughly as possible.
Once you have separated the mask, tubing, and water chamber, fill a sink with warm water and a small amount of antibacterial dish soap. You could also add a small amount of vinegar. However, you should never use bleach, as this could damage your CPAP equipment. Heavily scented cleaning products should also be avoided, as they can cause irritation when you use your CPAP machine.

The mask, tubing and humidifier water chamber should then be soaked in the soapy water for about half an hour. Run water through the tubing and wipe the mask with a damp cloth. After this cleaning, rinse off the CPAP equipment with clean water and allow it to air dry. The tubing should be hung over a towel bar or shower rod so that both open ends point downward. This will ensure that all water drains out of the hose.
After everything has completely dried, you can reconnect your mask, hose, and water chamber. Don't forget to plug your CPAP machine back in!
In addition to these daily cleaning guidelines, it is also a good idea to occasionally wipe down the CPAP machine with a soft damp cloth to remove dust buildup. Headgear should periodically be washed in warm, soapy water. However, you should not put headgear in the washing machine, as the rough cycling could stretch out or otherwise damage this component.

You should also be mindful of your CPAP's air filters. Most machines use both disposable and washable filters. Most disposable filters will need to be replaced every two to four weeks. Rinse washable filters as needed and make sure they are completely dry before placing them back inside the machine.
Additional Supplies For Effective Hand-Washing
While hand-washing can help address basic CPAP cleaning needs, it isn't always the most effective. Thankfully, there are a few devices that can help make things easier and ensure that you remove all bacteria.
For example, CPAP mask wipes and cleaners are a good pre-wash option to remove excess skin cells and oils from your CPAP mask. These wipes are either unscented or lightly scented, and are specially formulated to be safe for both your skin and your mask. Many individuals also use these wipes to clean off their mask before use, leaving their mask feeling fresh and clean.
While cleaning the mask is relatively straightforward, ensuring that your CPAP hose is adequately cleaned can be another matter entirely. With some tubing being six feet long (or longer), it can be hard to get every nook and cranny inside the tube during basic cleaning. To that end, tubing cleaners can go a long way in improving the effectiveness of your cleaning.
A tube cleaning brush uses soft nylon bristles to remove any debris or buildup within the tube, while UV based hose cleaners can disinfect both the interior and exterior of the tube with a powerful blast of UVC light.
CPAP Sanitation Devices
While standard hand-washing methods can be quite effective, there is no denying that they can also be quite time-consuming. This makes it difficult for many patients to remain compliant with their cleaning guidelines. Feeling like cleaning is too much trouble or too difficult greatly reduces the motivation to clean one's equipment every day — despite recommendations from healthcare providers.
Thankfully, there are now specialty devices designed to make CPAP cleaning and sanitation easier than ever. Though the designs may vary, these devices use activated oxygen (or ozone) to eliminate over 99 percent of all bacteria found on your CPAP equipment. This powerful cleaning method is often used in hospitals and food production facilities. Here is a brief overview of some of the most popular sanitizing devices currently available.

Sleep8 CPAP Sanitizing Companion: The Sleep8 CPAP Sanitizing Companion is a small, portable CPAP cleaner that uses a rechargeable battery. The system comes with a replaceable filter bag, which you connect to your CPAP tubing using a round valve located on the bag itself. The other end of the tubing connects to the Sleep8 device. Your mask and water chamber are placed inside the bag. Once the bag has been sealed, simply push the "start" button on your Sleep8, and it will begin running the sanitation cycle. The system will shut off automatically once it is complete. A screen will tell you how much time is remaining on the cleaning cycle. It is recommended that you wait a full hour after the end of the cleaning cycle before disconnecting the hose and removing the other items from the filter bag. No special adaptors are needed, regardless of the type of CPAP equipment you use. However, the filter bag should be replaced on a regular basis.
SoClean 2 Automated CPAP Cleaner and Sanitizer: The SoClean 2 Automated CPAP Cleaner and Sanitizer is extremely popular, in part thanks to its straightforward use. Rather than disassembling their CPAP components, users attach a supply tube to the humidifier water chamber during initial setup. For future use, they simply place the mask inside the SoClean 2's chamber without disconnecting it from the hose. The cleaning cycle begins after the lid is closed. The entire cycle runs automatically, so you don't need to worry about turning your machine off once it is finished. This easy bedside cleaning solution is highly convenient and effective. However, certain CPAP devices, including the Respironics DreamStation and ResMed AirSense, require additional

adapters

for use with this device.
VirtuCLEAN CPAP Mask Automatic Cleaner: The VirtuCLEAN CPAP Mask Automatic Cleaner is another small, portable device that makes it easy to keep your equipment clean no matter where you go. Similar to the Sleep8, the CPAP mask and empty humidifier chamber are placed in a specialty bag. The tubing is disconnected from the CPAP machine. One end is connected to the bag, while the other is attached to the VirtuCLEAN device. Pressing the power button will start the cleaning cycle, which is typically completed in as little as 30 minutes. The bag uses a filter that should be replaced every six months. For maximum portability, it also uses a USB cable for charging. The system also comes with a wall plug to ensure you can recharge it anywhere. No extra adapters are required, and the battery can recharge in as little as two hours.
Keeping Your Equipment Clean and Safe For Use
While taking a half hour out of your day to clean your CPAP equipment may not be the most exciting or enjoyable item on your to-do list, it is one of the most important. By following these basic steps for preventing bacterial buildup, you will be better protected against respiratory illnesses while you manage your sleep apnea.
The current COVID-19 outbreak is understandably a time of uncertainty for many — and we know this can be especially hard if you need to order new CPAP supplies or other medical equipment. We are doing our best to manage inventory and get orders sent out as soon as possible. We are fulfilling shipments in the order they are placed, as long as we have stock available. Don't hesitate to call us at 855-435-7144 if you have questions or concerns.
Despite the challenges going on around us, we remain committed to helping individuals without health insurance coverage get the CPAP equipment they need at an affordable price. With free shipping on orders over $89, available financing on select purchases, and discounts on a wide range of CPAP machines and accessories, we hope to help you get the care you need for managing your sleep apnea.