Roll over image to zoom in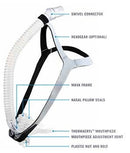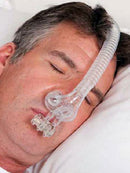 Description
The TAP PAP Nasal Pillows Mask is a product of years of innovation while working with both Oral Appliance Therapy (OAT) and CPAP Therapy. Dr. Thornton and his colleagues successfully treated hundreds of patients who could not use their CPAP on a nightly basis by joining various combinations of the TAP mouthpiece and a CPAP mask. These designs were not aesthetically appealing but they saved and extended many lives.
The new TAP PAP Nasal Pillow Mask is a big leap forward in CPAP mask technology. The TAP PAP eliminates all of the common problems associated with traditional CPAP masks that often lead to the discontinuance of therapy. These problems are instability, leak, pressure drop and needless annoying marks on the nose and face. Since it is anchored to the upper teeth with a special ThermAcryl™ mouthpiece TAP PAP is very stable, will not move or leak and does not require headgear. Headgear is available for those patients who prefer it. Simply put, the seal provided by TAP PAP is unequaled by any mask on the market today.
 This mask is not compatible with the Resmed AirMini Travel CPAP unit.
In The Package: Complete TAP PAP Nasal Pillows Mask with 3 Pillow Sizes (S, M & L), Mouthpiece, Short Tube,and Printed Instructions.
- Headgear and pillows.
- 1 Free cpap tubing.
- 1 Set of filters for your CPAP / BIPAP machine.
Payment & Security
Your payment information is processed securely. We do not store credit card details nor have access to your credit card information.