Roll over image to zoom in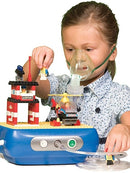 Description
The Interactive Pediatric Building Block Compressor Nebulizer with Reusable and Disposable Handsets is designed to provide pediatric users with a fun and educational activity while receiving respiratory therapy.
Creative and Fun: This nebulizer will ensure effective nebulization treatment by providing entertainment for pediatric users. The creative and fun design will promote compliance and lessen patient anxiety. It is recommended for users who are 5 years of age and older.
Specifications: This pediatric compressor nebulizer features a durable and quiet piston-driven motor. Its dimensions are 9.5" L x 7.5" W x 3.7" H and it weighs 3.83 lbs. A disposable nebulizer kit, pediatric mask, tubing, and carry bag are included. It comes with a 3 year limited warranty.
What's in the Box
- One (1) Townhouse Building Block Nebulizer
- Disposable Nebulizer Kit
- Pediatric Mask
- Tubing
- Carry Bag
- 5 Year Limited Warranty
Payment & Security
Your payment information is processed securely. We do not store credit card details nor have access to your credit card information.