Roll over image to zoom in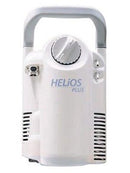 Description
The HELiOS Personal Oxygen System is one of the smallest, lightest, and longest lasting portable systems available. It provides the long-term oxygen patient with the freedom to get out and go. Patients can return to a more active lifestyle without the encumbrance of bulky, heavy equipment and the bother of frequent refilling associated with traditional oxygen therapy systems. The H300 portable unit weighs a mere 3.6 pounds filled and has duration of use of 8-10 hours at a setting of 2. Refills from the HELiOS reservoir take a quick 40 seconds. 
The HELiOS portable unit operates in a variety of positions…safely and reliably. The HELiOS Personal Oxygen System gives home care companies the ability to cost effectively provide a better, friendlier system that breaks down the barriers to effective long-term oxygen therapy. Due to the system's efficiency, home care dealers can streamline liquid oxygen deliveries to as few as 8 per year. 
Small and Lightweight (weighing 3.6 lbs. filled) for maximum freedom and comfort 
Long duration, approximately 8 – 10 hours at a setting of 2 allows patient greater independence 
Quick and easy to fill, takes about 40 seconds 
Operates in various positions for safety and convenience 
Built-In pneumatic conserver requires no batteries for operation 
Built-In spring scale for easy oxygen contents monitoring 
Weight Filled: 3.6 lbs. 
Weight Empty: 2.7 lbs. 
Height Including Handle: 10.5 
Operating Pressure: 22 psig 
Typical Fill time: 40 seconds 
Normal Evaporation Rate: 1.0 lbs. per day 
Typical Use Time (hours) at a Setting of 2 (18BPM) will be 8 – 10 hours 
Warranty: 1 Year
 - 4 Nasal Cannula
Payment & Security
Your payment information is processed securely. We do not store credit card details nor have access to your credit card information.