Roll over image to zoom in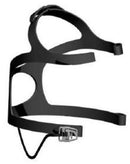 Description
Quality Adjustable Headgear:
The Headgear for the Forma FlexiFit Full Face Mask by Fisher & Paykel is an elegantly concocted device that will supply users with a secure, stable and comfortable fit without hassle or complication. The Forma full face mask headgear is composed of special breathable elastic material and will conform easily to your specific head size and shape. With the Forma headgear, you will not have to over-tighten to achieve a desirable fit. This replacement headgear is latex-free and is lightweight and possesses a convenient crown strap.

Tri-Glide Buckle:
The replacement headgear for the Forma full face mask has a Tri-Glide Buckle located at the back of the headgear. This buckle is able to join both of the back straps for the purpose of producing a more secure and stable fit. The Tri-Glide Buckle is remarkably easy to use - the back straps are able to snap in and out of place quickly and simply.

Compatibility:
This replacement headgear piece is intended to work with the Forma FlexiFit Full Face Mask by Fisher & Paykel - it is not compatible with other Fisher & Paykel masks or masks by different manufacturers.

Features:

Designed to work specifically for the Forma Full Face Mask by F&P

Does not require over-tightening to achieve a snug fit

Made of breathable elastic material

Tri-Glide Buckle enhances your fit

Convenient crown strap

Easy release strap

Latex-free
Payment & Security
Your payment information is processed securely. We do not store credit card details nor have access to your credit card information.