Roll over image to zoom in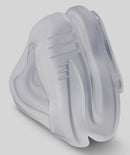 Description
This is the replacement cushion for the FullLife CPAP mask by Philips Respironics.
These replacement cushions for the FullLife mask are dual-textured to prevent the mask from moving while on the face. The Sure Seal technology flap works with the textured cushion to improve overall comfort and sealing.
If the cushion on your FullLife mask is damaged or showing wear, it may compromise the mask's ability to form a seal. Also, if your cushions are dirty from use, they could expose you to infections. Replace cushions that are dirty or showing wear to make your mask feel and function like it is brand new.
Effective treatment of obstructive sleep apnea (OSA) requires the mask to form a stable seal in order to deliver continuous positive airway pressure (CPAP). OSA is a condition wherein the upper airways of the patients collapse during sleep, thus obstructing the airway and causing the patient to have difficulty in breathing.
Breathing interruptions can cause the patient to startle awake multiple times in a night, depriving the patient of restful sleep. One effective treatment of OSA is application of CPAP to the patient's airway, causing the airway to remain open and allowing the patient achieve quality sleep throughout the night.
A mask that forms a good seal is critical in the effective application of CPAP therapy. Therefore, it is important to always replace old and worn cushions to ensure that you always get the most out of your CPAP therapy.
Payment & Security
Your payment information is processed securely. We do not store credit card details nor have access to your credit card information.