Roll over image to zoom in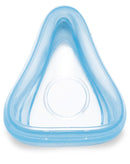 Description
This Blue Gel Full Face Cushion provides exceptional seal and comfort with a soft outer shell that conforms to the face while a thicker inner wall supports the mask and adds stability.
SIZING: Four cushion sizes -- Petite, Small, Medium, Large -- are available to fit a wide range of faces. Any cushion size will fit on any Amara or Amara Gel mask frame; so if you find you want to try a different size you can simply purchase a new cushion rather than having to buy a whole new mask. Cushion size is indicated by a single letter -- P, S, M or L -- printed on the base of the cushion.
Do you need help choosing your correct size?
Payment & Security
Your payment information is processed securely. We do not store credit card details nor have access to your credit card information.