Roll over image to zoom in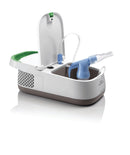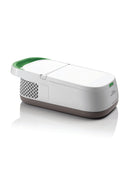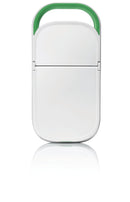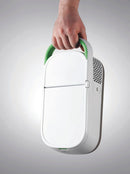 Description
The InnoSpire Deluxe compressor nebulizer system was designed with convenience in mind. Its large, internal storage compartment allows user to store all supplies plus extra medication within unit! Inside the storage compartment are operating instructions just in case you ever misplace the owner's manual. The integrated handle makes carrying the compressor and stored contents simple. This compressor also features a slot at the unit's rear to neatly tuck the power cord. And, since the whole unit weighs less than 5 pounds, it is easy to store the system in a backpack or luggage for easy transport. The included disposable Sidestream Nebulizer utilizes multiple air holes to provide you with fast treatment times. Also, the InnoSpire Deluxe compressor nebulizer is ideal for patients of all ages.
Reliable, robust design
Consistent high quality aerosol delivery
Adjustable pressure
Robust handle for easy transport
Faster treatment times compared to other nebulizers
Convenient storage compartment
Power cord tucks neatly into the storage area
SideStream Venturi system - to provide fast & efficient drug delivery
Modern design
Compliant with International Electro-technical Commission
5 year Manufacturer warranty
| | |
| --- | --- |
| Dimensions | 380mm x 177mm x 110mm (13" D x 6.7" W x 4.3" H) mm (inch) |
| Weight | 2.0 kg (4.4 lbs) kg (lb) |
| Volume level | 58±3dBA dBA |
| Thermal overload protector | Resettable thermal fuse; functioning temperature 130°C °C |
| Maximum pressure | 268 kPA (35 psi) kPA(psi) |
| Flow rate | 6 LPM @ 10 psi LPM @ psi |
| Max flow rate | 10.78 LPM LPM @ psi |
| Particle size distribution | 0.5 to 5 microns micron |
| Power Electricity supply | 120V/60Hz, 1.7 Amp V/Hz, Amp |
InnoSpire Deluxe Compressor Machine
Integral storage for nebulizer accessories
SideStream Disposable Nebulizer & 7' Tubing
Payment & Security
Your payment information is processed securely. We do not store credit card details nor have access to your credit card information.