Roll over image to zoom in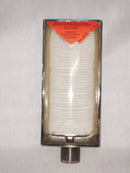 Description
Invacare Intake Bacteria Filter -
 No matter the brand or type of machine you own, disposable and washable filters are a fundamental part of your equipment. Providing cleaner and fresher air flow, CPAP filters are an essential component for your CPAP therapy due to their ability to remove irritating dust, pollen, and tobacco smoke particles from your CPAP. 
HEPA Filter is designed to keep your Invacare oxygen concentrator going and keeps your oxygen flow performance in a great condition. This filter is listed with two different names (Intake Filter and HEPA Filter) but don't worry it is the same filter. 
Payment & Security
Your payment information is processed securely. We do not store credit card details nor have access to your credit card information.