Roll over image to zoom in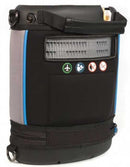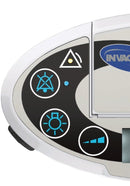 Description
The easy-to-use Platinum Mobile Oxygen Concentrator features 5 flow settings and a rugged overall design.
The Invacare Platinum Mobile Oxygen Concentrator passes the tests of daily life: Dual intakes and exhausts maximize heat dissipation; downward facing ports and vents allow this POC to meet IP22 water resistance standard for exposure up to 10 minutes; and reinforced bag bumpers, and a foam encapsulated compressor help with everyday bumps.
FAA approved for commercial flights.

Small and compact.

Lightweight and easy to carry.

5 levels of pulse oxygen flow.

Easy to operate with only 4 control buttons.

Top loading batteries provide easy access.

Durable exterior with impact and water resistant.

Simple LCD interface with large buttons.

HEPA filter positioned for easy access and replacement.

Switch batteries without turning off the concentrator.

Convertible carry bag serves as messenger, handbag or backpack.
Product Size and Weight
Width: 7.5 Inch.

Height: 9.45 Inch.

Depth: 3.88 Inch

Weight: 6 pounds with one battery, Carry Case and carry strap.
Product Performance
Noise: 40 dBA.

Oxygen Concentration: 87 to 95.6%.

Oxygen Flow: Pulse.

Pulse Settings: 1 to 5.

Maximum Oxygen Flow: 880 mL per minute.

Maximum Outlet Pressure:

Operating Temperature Range: 41 to 104 degrees Fahrenheit.

Operating Altitude Range: 0 to 10,000 feet above sea level.
Product Operation
Average Power Consumption at setting 2 (watts): 40 watts.

AC Power: 100 to 240 VAC, 50 to 60 Hz, 1 Amp (auto sensing).

Battery Duration

Single Battery: Up to 5 hours.

Double Battery: Up to 10 hours.

Battery Charging Time

Single Battery: 2 hours, 20 minutes.

Double Battery: 4 hours, 40 minutes.

Use: Stationary, portable, and travel.

FAA approved.
Manufacturing and Dependability
Product Numbers: POC1-100B

Manufacturer: Invacare.

Brand: Platinum.

Made in USA.

Warranty: 3 years concentrator, 2 years compressor, 1 year sieve beds and battery.

Please note - Any smoking while using the unit or evidence that unit has been used in a smoke filled environment will void the warranty.
Platinum Mobile Oxygen Concentrator

Battery

Carrying case

AC adapter

DC adapter

Manuals

3 Year Limited Warranty
Payment & Security
Your payment information is processed securely. We do not store credit card details nor have access to your credit card information.