Roll over image to zoom in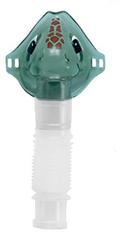 Description
Designed to reduce fear of treatment with an aerosol mask and encourage use compliance during asthma therapy.
Character- themed masks provide effective medication delivery while enabling asthma treatment for children.
The toy-like masks aid in the perception that the character is breathing along with the child, which encourages the patient to take frequent deep breaths, allowing for a more effective and fun treatment.
The mask's soft, Latex-free plastic construction ensures a comfortable fit.
Payment & Security
Your payment information is processed securely. We do not store credit card details nor have access to your credit card information.