Roll over image to zoom in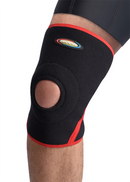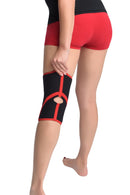 Description
Return Policy - Once This Item Has Been Opened, Returns Will Not Be Accepted On This Product. Please Review Sizing Chart To Order The Size That Best Fits You.
Information:
MAXAR Bio-Magnetic Airprene Knee Brace with the open patella, Terry Cotton lining, and 8 magnets provides excellent support for the knee and patella. Reinforced padded patella opening eliminates direct pressure and stabilizes the kneecap. Bio-Magnetic Therapy is recommended by most experts as an effective drug-free alternative for pain reduction and rehabilitation after back surgeries and injuries. 
Features:
●     8 magnets to create localized Bio-Magnetic Field
●     Provide uniform all-way stretch compression and support for all day comfort
●     Help prevent and treat sprains, strains and arthritic conditions
●     Retain body heat, increase circulation and reduce swelling while the terry cotton lining helps minimize sweating and reduces skin allergies
●     Provide constant uniform compression and support to the joints, ligaments, and tendons without impeding movement
●     Highly recommended by doctors for the prevention of knee sprains and strains, rehabilitation and treatment after injuries and surgeries
●     FDA approved, CE Certified, Material: Neoprene 75% | Nylon 10% | Cotton 15%
Payment & Security
Your payment information is processed securely. We do not store credit card details nor have access to your credit card information.