Roll over image to zoom in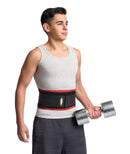 Description
Return Policy - Once This Item Has Been Opened, Returns Will Not Be Accepted On This Product. Please Review Sizing Chart To Order The Size That Best Fits You.
Information: 
MAXAR Bio-Magnetic Deluxe Back Support Belt is one of the most innovative and advanced back supports on the market today. It's engineered to provide comfortable support for your back. This revolutionary Patent Pending back support uses powerful magnets for pain management and Far Infrared materials to help retain body heat and promote increased blood circulation. Bio-Magnetic Therapy is recommended by most experts as an effective drug-free alternative for pain reduction and rehabilitation after back surgeries and injuries.
Features:
●     25 back / 6 front magnets create powerful full torso 3D Bio-Magnetic Field
●     7" wide with double pull is designed to provide better fitting and tension adjustment
●     Strong embedded magnets and special Far Infrared / Cera Heat material help retain body heat, increase blood circulation and reduce pain
●     Front & Rear mesh pockets are designed to hold optional Thermoplastic Moldable Inserts or Hot/Cold gel packs
●     Breathable construction/Soft Cotton lining for all-day comfort and helps minimize sweating and reduces allergic skin reactions
●     Highly recommended by doctors for people who lift, move heavy objects and perform physical activities in extreme weather conditions
●     Also those who suffer from osteochondrosis, lumbago, lower back pain or have undergone spinal surgery 
●     FDA approved, CE Certified, Material: Spandex 30% | Nylon 40% | Cotton 30%
Payment & Security
Your payment information is processed securely. We do not store credit card details nor have access to your credit card information.