Roll over image to zoom in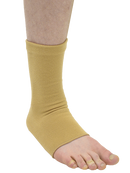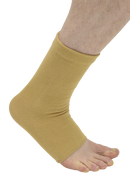 Description
Return Policy - Once This Item Has Been Opened, Returns Will Not Be Accepted On This Product. Please Review Sizing Chart To Order The Size That Best Fits You.
Information:
Maxar Cotton Ankle Brace is designed for use when medium support and natural breathability are desired. The all-way stretch design provides increased flexibility and support. 
Features:
●     67% cotton provides natural warmth and breathability
●     All way stretch provides increased flexibility and support
●     Non-allergic and more comfortable to wear than many other bands
●     Doesn't irritate the skin and helps prevent allergies often associated with other synthetic/elastic supports
●     Highly recommended by doctors for the rehabilitation and prevention of sprains, strains and other ankle injuries
●     FDA approved, CE Certified, Material: Lycra 10% | Cotton 67% | Elastic 23%
Payment & Security
Your payment information is processed securely. We do not store credit card details nor have access to your credit card information.