Roll over image to zoom in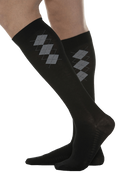 Description
Return Policy - Once This Item Has Been Opened, Returns Will Not Be Accepted On This Product. Please Review Sizing Chart To Order The Size That Best Fits You.
Information: 
MAXAR Men's Fashion Cotton Compression Support Socks are designed and engineered with 70% cotton, a special massaging sole and graduated compression of 20-22 mmHg. The graduated compression improves blood circulation, reduces swelling and pain in the lower legs, and helps men prevent varicose veins and DVT (blood clots), often occurring during long flights, or while sitting or driving for long periods of time.
Features: 
-Naturally highly breathable and healthy for your legs.
-Very comfortable to wear on a daily basis even in hot weather conditions.
-Look and feel like regular, stylish and professional dress socks.
-Recommended to put on the socks in the morning before, or right after getting out of bed.
-FDA approved, CE Certified, Material: Cotton 70% | Nylon 12% | Spandex 13% | Polypropylene 5%
Payment & Security
Your payment information is processed securely. We do not store credit card details nor have access to your credit card information.