Roll over image to zoom in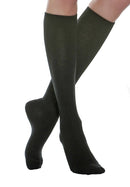 Description
Return Policy - Once This Item Has Been Opened, Returns Will Not Be Accepted On This Product. Please Review Sizing Chart To Order The Size That Best Fits You.
Information: 
These new and revolutionary MAXAR Compression Socks are designed and engineered with 23% Milk Protein Fiber and Graduated Compression of 20-22 mmHg. The Graduated Compression improves blood circulation, reduces swelling and pain in the lower legs, and helps prevent Varicose Veins and DVT (blood clots), often occurring during long flights.
Features:
-New and Unique Milk Protein Fiber.
-Natural, breathable, soft and silky – very comfortable to wear on a daily basis.
-Provide moisturizing, anti-aging and rejuvenating effect, helping skin look and feel healthy.
-18 amino acids provide natural, anti-bacterial, and anti-fungal effect.
-Recommended to put on the socks in the morning before, or right after getting out of bed.
-FDA approved, CE Certified, Material: Milk 23% | Viscose 53% | Nylon 14% | Spandex 10%
Payment & Security
Your payment information is processed securely. We do not store credit card details nor have access to your credit card information.