Roll over image to zoom in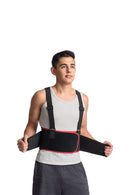 Description
Return Policy - Once This Item Has Been Opened, Returns Will Not Be Accepted On This Product. Please Review Sizing Chart To Order The Size That Best Fits You.
Information: 
MAXAR Standard Work Belt provides excellent support and comfort to the abdominal and lumbo-sacral areas. It's very comfortable to wear on a daily basis. It helps form correct posture and avoid back injuries while working or lifting heavy loads.
Features:
●     Regular mesh, 8" wide and has four (S-M) or six (L-XL-2XL) plastic stays
●     Very comfortable to wear on a daily basis
●     Protects from injuries and helps reduce lower back pain
●     Two additional side pulls are designed for better fitting and tension adjustment
●     Massages muscles and reduces pressure from the lower back
●     Highly recommended by doctors for people who have a great deal of physical activities, lift and move heavy objects or sit for continuous hours
●     Also for people who experience lower back pain, osteochondrosis, lumbago or have undergone spinal surgery 
●     FDA approved, CE Certified, Material: Nylon 60% | Polyester 40%
Payment & Security
Your payment information is processed securely. We do not store credit card details nor have access to your credit card information.