Roll over image to zoom in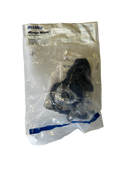 Description
Product SKU's
Small - 16333
Medium/Large - 16334
Large/Wide - 16335
The Mirage Micro Nasal CPAP Mask with Headgear was ResMed's first nasal CPAP mask to utilize the MicroFit forehead support system. This innovative design features the Mirage dual-walled cushion and improved exhalation ports. The MicroFit dial offers 24 positions, providing a personalized fit for over 95% of all users.
Dual-Wall Cushions. ResMed has created the dual-wall cushions in six sizes: Kids, Small, Medium, Large, Large Wide, and Extra Large. This cushion is designed to fit the widest range of faces.

Streamline Design. The thinner design opens up the user's line of sight.

Headgear Quick Clips. The headgear comes with quick clips that allow for fast and convenient removal of the mask without the need to re-adjust.

Easy Cleaning. This mask's streamline design includes fewer mask parts for quick and easy cleaning.

Improved Diffusion Vent

The Mirage Micro comes with a new diffusion vent that disperses air softly and quieter than before. The exhalation ports are configured in a circular design that greatly reduces the audible sound of exhaled air and redirects the airflow away from your bed partner.

MicroFit Dial 
The MicroFit dial allows CPAP users to find the right fit using 24 small incremental adjustments. The dual-wall cushion and forehead move in tandem as the dial is turned. This design is intended to address difficulty with "first time" fittings and ensure that is it not necessary to over tighten the mask's headgear.

Mirage Micro for Kids

The Mirage Micro for Kids is an ideal solution to fit your pediatric needs. The Micro for Kids uses a custom mask frame specifically designed for a small facial profile. A small headgear (ResMed part number 16118) and cushion come with the Micro for Kids. The mask is FDA approved and is intended for children Seven years and older with a weight of more than 40 lbs (18.2 kg). For help with fitting a child, please review ResMed's Mirage Micro for Kids Fitting Guide.
PLEASE NOTE** THIS MASK IN NOT COMPATIBLE WITH THE RESMED AIRMINI TRAVEL CPAP UNIT
Payment & Security
Your payment information is processed securely. We do not store credit card details nor have access to your credit card information.