Roll over image to zoom in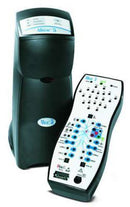 Description
The Alice 5 PSG incorporates all of the needed capabilities to satisfy professional sleep testing standards at an affordable price for owners of sleep facilities. The device has 31 channels and is the size of the current Respironics' Alice 5 sleep system. The Alice 5 PSG runs on the reliable Sleepware® software program that is designed to monitor, display, process and download polysomnographic data.
Windows-compatible computer running Windows Vista Business, Windows XP Professional, or Windows 2000 with a CD-RW drive.

A DVD drive is recommended if saving audio/video files onto removable storage media.

Intel® Pentium® 3 processors (500 mHz) or greater, 32-bit (x86) processor (1 GHz) required for Windows Vista computers.

512 MB system memory, 1 GB for Windows Vista computers.
Specifications
Total Channels 31

Analog Inputs 8 in the Base Station

Neurological Channels Specifications

Number of Channels 13 total [6 EEG (3 left, 3 right), 2 EOG, 5 EMG]; 2 reference

Input Impedance 1.66 Mohm per Electrode 3.33 differential

Bandwidth 0.32 Hz to 106 Hz

Input Signal Range ± 3.3milliV

Digital Resolution up to 16 bits

Sample Rate 2000 Hz

Max Storage Rate 200 Hz

Electrode Impedance Testing 100 Hz square wave between patient electrodes

Calibration Signal Signal injection, 1 Hz, 98 µVpp

Square wave to amplifier inputs

Communication Interfaces Signals sent from Patient Interface to Headbox through sensor cables. Data is sampled and sent to the Base Station where it is stored on a disk or sent through an ethernet connection to a Host PC

Digital Filters Available 0.5 to 100 Hz high pass filter

During Analysis 0.5 to 100 Hz low pass filter 50 or 60 Hz Notch filter Anti-aliasing filter

Other Channel Types 2 Effort: Piezo or zRIP

2 Airflow: Thermal and Pressure Flow

Body Position

2 Actigraphy

1 ECG

1 Snore Mic
System Physical Characteristics
Main Unit:

Size/td> 14 L x 5 W x 12.5 H (in); 35.6 x 12.7 x 31.7 (cm)

Weight 7.8 lb; 3.5 kg

Headbox:

Size/td> 10 L x 4 W x 2 H (in); 25.4 x 10.2 x 5.1 (cm)

Weight 1.6 lb; 0.72 kg

System Power

Requirements:

Power to Main Unit 6.25 VDC, 3 to 6 Amps

Power Supply MW116 Power Supply 100-240 VAC, 50-60 Hz, 0.5-1.5 A
INCLUDES:
Base Station

Alice 5 Headbox

Auto-Switching Power Supply

AC Power Cord

Headbox Wall Mounting Kit

Patient Cable

Headbox Carrying Pouch

Headbox Shoulder Strap
PM IS CURRRENT
JUST TAKEN OUT OF SERVICE
Payment & Security
Your payment information is processed securely. We do not store credit card details nor have access to your credit card information.