Roll over image to zoom in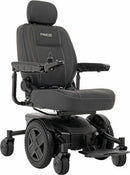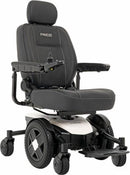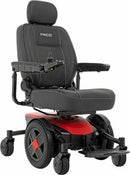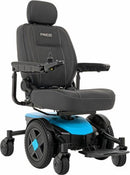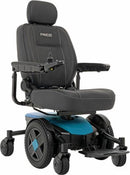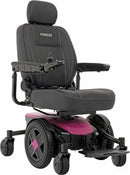 Description
 ***This item is not eligible for a return, refund, or an exchange once it has been shipped. All sales are final.***
Pride Mobility Jazzy EVO 613 Power Chair
The all new Medicare-reimbursable Jazzy EVO 613 series is here! The Jazzy EVO 613 series provides the freedom to navigate small spaces and tight corners indoors with a narrow base width of only 22". The Jazzy EVO 613 Li uses a lithium iron phosphate battery that provides longer life and more convenient charging.
The Jazzy EVO 613 series gives you all the best that Pride has to offer with patented Active-Trac Suspension and exclusive Mid-Wheel 6 Technology that provide you with a smoother, stable ride.
The Jazzy EVO 613 series of power wheelchairs with lithium batteries represent a philosophy we share here at Pride Mobility. If you're not constantly improving, ever innovating, and pushing boundaries, you might as well fall behind.
Features
Narrow base width of only 22"
Maximum speed up to 5.1 mph
3" ground clearance for 13" solid drive tires
Per charge range up to 17 miles with U1 SLA batteries and up to 21 miles with lithium ion (200 lbs.)
Mid-wheel 6 Technology offers tight turning radius around doorways and corners
Pride's patented Active-Trac (ATX) Suspension ensures a smooth ride experience over uneven surfaces
Memory foam high-back seat with single seat post allows the user to swivel
Height, width, and angle adjustable armrests
Flip-up, height, angle, and depth adjustable foot platform
Removable matte-finish color-through shrouds
Specifications
Brand: Pride Mobility
Product Type: Power Chair
Weight Capacity: 300 lbs
Turning Radius: 22"
Overall Width: 22"
Overall Length: 41" with footrest (35" without)
Maximum Speed: Up to 5.1 mph
Ground Clearance: 3"
Front Casters: 5"
Drive Wheels: 13" Solid
Rear Casters: 5"
Drivetrain: Two motor, In-line, Mid-wheel drive
Braking System: Regenerative and electromechanical
Suspension Type: Active-Trac (ATX)
High-Back Seat Sizes: 16" x 16-18", 18" x 18-20", 20" x 18-20"
Seat-to-Floor Range: 19.75" - 21.25"
Per Charge Range (EVO 613): Up to 14 miles at 300 lbs; Up to 17.1 miles at 200 lbs
Per Charge Range (EVO 613 Li): Up to 17.6 miles at 300 lbs; Up to 21 miles at 200 lbs
Standard Electronics: 40A, PG GC3
Component Weight Base: 94 lbs
Component Weight Seat: 48 lbs
U1 Batteries: 23.5 lbs each
Lithium Battery: 18.5 lbs
Total Weight: 189 lbs (EVO 613), 160.5 lbs (EVO 613 Li)
Battery Requirements: (2) 12 Volt, U-1 (EVO 613), Lithium Iron Phosphate (EVO 613 Li)
Battery Charger: 3.5 amp, off-Board
Warranty
Frame: 5-Year Limited
Drivetrain: 13-Month Limited
Electronics: 13-Month Limited
SLA Battery: 13-Month Limited
Lithium Battery: 3-Year Limited
Product Documents:
Pride Mobility Jazzy EVO 613 Power Chair
Payment & Security
Your payment information is processed securely. We do not store credit card details nor have access to your credit card information.