Roll over image to zoom in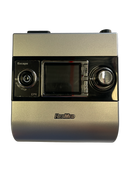 Description
WARRANTY INFORMATION
1 Year Warranty
H5I HUMIDIFIER INCLUDED WITH YOUR PURCHASE OF THIS ITEM
QUIETLY CAPABLE EASY-BREATHE MOTOR
CPAP systems create two types of noise: radiated noise in the room, and conducted noise through the tube. The S9's Easy-Breathe motor with axial air-flow produces less "turbulence" lowering average radiated sound levels to just 24dBA. In addition ResMed has reduced conducted noise levels through the breathing tube by 78%. When fully operational the S9 series is no louder than normal breathing!
EASY-BREATHE EPR
ResMed has updated the clinically proven Easy-Breathe EPR waveform. Breath by breath, Easy-Breathe EPR reduces the work of breathing during exhalation providing a gentler pressure that naturally adapts to your breathing cycle throughout the night.
BASIC THERAPY TRACKING
The S9 allows you to view a snapshot of your sleep therapy directly on the device. The S9 ESCAPE stores basic therapy tracking data including hours of use and compliance data, up to 365 sessions, both on the device and the removable data card.
Refurbished Units Can not be linked to My Air App or AirView
SD Card NOT Included
Payment & Security
Your payment information is processed securely. We do not store credit card details nor have access to your credit card information.