Roll over image to zoom in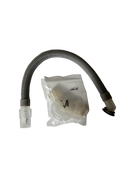 Description
The lightweight Swift FX nasal pillows system without Headgear from ResMed makes it easy to forget about your CPAP therapy – but in a good way! The Swift FX mask is small and unobtrusive, offering a generous freedom of movement for sleep apnea therapy. And while it's soft-fitting and flexible, the Swift FX is also robust enough to handle high-pressure prescriptions ensuring dependable, effective CPAP therapy throughout the night for a wide range of patients.
Soft Fit for Maximum Comfort
Sleep apnea patients will appreciate the Swift FX's super-soft fit and minimal face coverage. This is a discreet mask option that's easy to put out of mind for a distraction free night. The mask is flexible enough to fit snugly yet adjusts for unique facial contours and curves, and does so without leaving pesky red marks afterward. 
Flexible, Unobtrusive Design
The Swift FX's dual-wall pillows and flexible cushion base allow for some movement without losing the mask's seal with your face. This tolerance allows for a greater freedom of movement, accommodating changes in sleeping position without sacrificing performance. You can rest easy – on your side, or back – knowing the Swift FX will keep things running smooth.
Includes
Nasal Pillow and short Tube Assembly
Payment & Security
Your payment information is processed securely. We do not store credit card details nor have access to your credit card information.