Roll over image to zoom in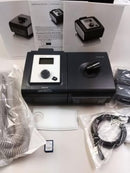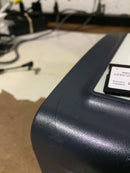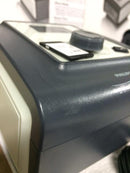 Description
Philips Respironics System One BiPAP AUTO offers a wide pressure range (4-25cm) and a myriad of comfort features including the latest in BiFlex pressure relief. The BiPAP AUTO 750 automatically adjusts pressure levels throughout the night, adapting to your changing sleep needs, to ensure you enjoy a comfortable, successful sleep experience.
EVERYTHING YOU EXPECT AND MORE
The System One BiPAP AUTO includes all of the great features you expect from a sleep therapy system including a wide pressure range (4-25cm), patient adjustable ramp, AUTOMATIC altitude adjustment, data card, the latest BiFlex comfort technologies, and a universal power supply. In addition the BiPAP AUTO is an auto-adjusting bi-level system so it will adjust your inhalation and expiration levels throughout the night to ensure you are receiving optimum pressure for the most comfortable and successful sleep experience. On top of this the BiPAP AUTO features resistance control technologies that adjust to different mask styles, and advanced therapy tracking capabilities -- including advanced event detection, response and reporting.
FLEX FOR COMFORT - The BiPAP AUTO features Bi-FLEX
Respironics natural and clinically-proven "flex" technologies enhance traditional pressure therapy to improve comfort and increase compliance. Bi-Flex, on the BiPAP AUTO, offers pressure relief at inhalation and exhalation to make BiPAP therapy more like natural breathing. By tracking each breath, Bi-Flex pressure relief technology always delivers pressure relief just when it is needed for an improved sleep experience.
SYSTEM ONE HUMIDITY CONTROL & DRY BOX
Many BiPAP users find that the addition of heated humidity to their sleep therapy system improves comfort and helps with overall compliance. The optional System One Heated Humidifier delivers optimum humidity, drastically reduces rainout, and provides ultimate comfort throughout the night by analyzing and adjusting to ambient temperature, changing environmental conditions, relative humidity, and therapy flow. Revolutionary Dry Box technology isolates the humidfier's water source from the inner workings of the device to protect against accidental spillage and water damage.
SYSTEM ONE RESISTANCE CONTROL
System One Resistance Control achieves complete system comfort by enabling the device and mask to work optimally together. Through simple settings, the System One Resistance Control instructs your BiPAP to compensate for variable resistance characteristics related to different masks. The result is synchronous pressure delivery and the assurance you can enjoy the full benefits of Respironics Flex comfort technologies no matter which mask is used.
ADVANCED EVENT DETECTION, REPORTING & RESPONSE
The System One BiPAP AUTO tracks, and adjusts therapy levels to respond to, many common OSA related events including Hypopneas, Flow Limitation, Respiratory Effort Related Arousal, Snores, and Leaks. In addition the BiPAP AUTO can detect many symptoms beyond classic OSA -- such as clear airway apneas, obstructed airway apneas, and periodic breathing -- that may indicate the need for specialized therapy.
PERFORMANCE

Operating Modes

CPAP, BiLevel and Auto-BiLevel

Pressure Range

4cm to 25cm H20 (±1 cm H20)

Ramp Time

0 to 45 Minutes (5 Minute Increments)

Ramp Start Pressure

4 to Min ePAP Pressure (User adjustable)

Altitude Compenstation

Automatic

Sound Levels

Average less than 30 dBA

Comfort Technologies

Bi-Flex

Leak Compensation

Automatic

Auto On/Off

Yes

Humidifier

SystemOne Integrated Humidifier (Optional)
THERAPY DATA, STORAGE & RESPONSE

Data Display on Device

Compliance Visual Inspection Compliance, 7 and 30-day averages

Data Storage on SD Card

More Than 1 Year of Data... Hours of Use, Visual Inspection Compliance, Apnea Hypopnea Index, Flow Limitation, Respiratory Effort Related Arousal, Snore, Leak, Clear Airway Apnea, Obstructed Airway Apnea, Hypopnea, Periodic Breathing

Event Response

Flow Limitation, Respiratory Effort Related Arousal, Snore, Leak, Obstructed Airway Apnea, Hypopnea
POWER

Universal Power Supply

AC power 100-240V, 50-60Hz (Auto Sensing)

External Power Supply

Yes
Bipap Auto DS750HS Bi-level Machine (Certified Refurbished)
Humidifier (Optional)
Power supply (Included )
Filters (Optional)
CPAP tubing (Optional)
Carry bag (Optional)
6 month warranty against mechanical defect. (Included )
Payment & Security
Your payment information is processed securely. We do not store credit card details nor have access to your credit card information.