Roll over image to zoom in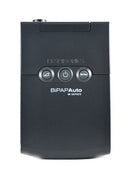 Description
The M Series Generation Auto BIPAP represents the first generation by Respironics to enter into the portable BIPAP class, based on its small profile. Measuring only 7.5"(L) x 5.0"(W) x 3.1"(H), and weighing only 2.2 lbs (without humidifier), it remains one of the smallest BIPAP's on the market, and is commonly used in ambulance patient transport because of its portability, and reliability. It is also an excellent choice for nightly use.
Pressure range is 4cm-25cm h20. The M Series DS700 Auto BIPAP, as well all Respironics BIPAP devices of this, and previous generations, have the Digital Auto-Trak technology. Auto-Trak increases comfort by sensing the change in flow that represents the start, or end of a breath, and allows the device to react quickly to changes with appropriate pressures. This unit can run on any voltage from 110-240V, and is capable of running off a 12volt power source. The DS700 has advanced data recording capability, to include AHI (Apnea Hyponea Index), leak rate, and compliance information. This gently used BIPAP provides a standard mode of BIPAP therapy, with an inspiratory, and expiratory pressure setting. The device also provides an auto titration mode which will automatically adjust the pressure, to the least amount of pressure needed to overcome any apnea or hyponea episodes or 'events'. BIFLEX is also available with this model, which allows for a smoother 'rounding' transitional phase (period of time between breaths) of breathing. This feature helps the BIPAP feel more like your natural breathing pattern.
The Respironics M Series DS700 BIPAP Auto represents a portable, quiet, affordable option for BIPAP users who are looking for a inexpensive back up unit, travel unit, or primary unit for nightly use. 
INCLUDES:
Respironics BIPAP Auto M Series DS700 with BIFLEX System

Humidifier

Water chamber

Power supply

Smart card module

Filters

Cpap tubing

Carry bag

Manuals

6 month warranty against mechanical defect
SD Card NOT Included
USAGE: 1485 Hours
Payment & Security
Your payment information is processed securely. We do not store credit card details nor have access to your credit card information.