Roll over image to zoom in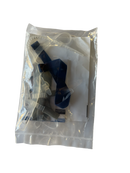 Description
The Swift FX Headgear and Bella Gray loops accessory combo pack comes with 2 different styles of headgear. The FX headgear with gray and light blue back straps with soft gray wraps, Bella gray loops which also have soft wraps to make wearing your headgear soft and comfortable.
Included in the Package
Two Bella loops (1 pair)
1 pair of buckles to attach the Bella loops to the CPAP mask pillows
4 Gray soft wraps made for the Bella loops
Swift FX Headgear so you can switch back and forth from the Bella loops or the Swift FX headgear
2 Gray soft straps used with the Swift FX Headgear
Payment & Security
Your payment information is processed securely. We do not store credit card details nor have access to your credit card information.