Roll over image to zoom in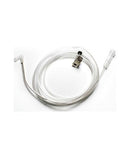 Description
The Uni-Flo2 Nasal Cannula is half the weight of a normal cannula and is designed to reduce skin contact by half. The cannula can be worn discretely on either side of the face and has a memory stabilization system that allows the tubing to be contoured to any face shape. Multiple strain relief points are included to reduce tube tugging and ensure the flow of oxygen. The one-sided design of the Uni-Flo2 looks good and makes it much less obvious that the individual is receiving supplemental oxygen. It delivers the same amount of oxygen but takes up half of the space with no cumbersome noose at the neck. The ergonomic design of the cannula itself fits securely inside the nostril, ensuring consistent oxygen flow both day and night. You will love the discrete, lightweight design of the Uni-Flo2.
Uni-flo2 Cannula Features and Benefits
Increase Dignity and Confidence
Extremely Comfortable and Lightweight
Vortex design increases oxygen uptake
Memory tube provides stable and comfortable fit for all patients
50 percent less plastic, causes fewer sores
Does not constrict neck and throat
Low profile design
Single-prong cannula reduces irritation
Reduces amount of medical-grade plastic that comes in contact with skin
No noose at neck
Delivers oxygen at 1-6 LMP
Delivers same amount of oxygen in half the space
Can be worn on either side, interchangeable between nostrils
Ergonomic design ensures ease of use and secures cannula in the nostril
Cosmetically more appealing than two-prong cannulas
No need to remove to eat or drink
Guidance Stabilization Systems adjusts to all facial contours
Multiple strain relief points that allows for continuous flow day and night
Product Specifications
Materials: Polyvinyl chloride (PVC)
Non-sterile
No added phthalates (no added DEHP)
Payment & Security
Your payment information is processed securely. We do not store credit card details nor have access to your credit card information.